Study Finds Link between Spelling Prowess and Party Affiliation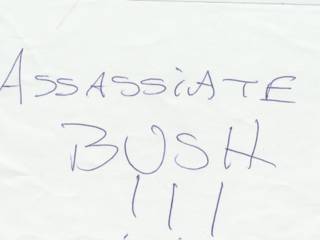 If there was a spelling requirement the Dems would never even come close...

This is a true story. This past Saturday morning I was watching my daughter play soccer at a tournament in Huntington Beach, CA. Wonderful city...I lived there for about six years awhile back. It was a beautiful fall, southern California day and I felt fortunate to be able to sit out in the sun for a few hours, relax and enjoy the game. If you've been following my posts recently, you will have learned that I drive a gas-guzzling SUV and affixed to the rear window is a "Bush Won...Get Over It" sticker. On return to my vehicle I found the above note tucked neatly under the driver side wiper...I guess I should count my blessings...at least it wasn't scratched into my paint.